The organizers of the ECM 2013 would like to thank all participants for their contribution to the successful and fruitful meeting!
In total, 575 participants from 39 countries presented and discussed 447 papers on all topics of combustion. Moreover, 5 outstanding Plenary talks were highly appreciated by young and experienced researchers. These lectures will be available at the web-site soon.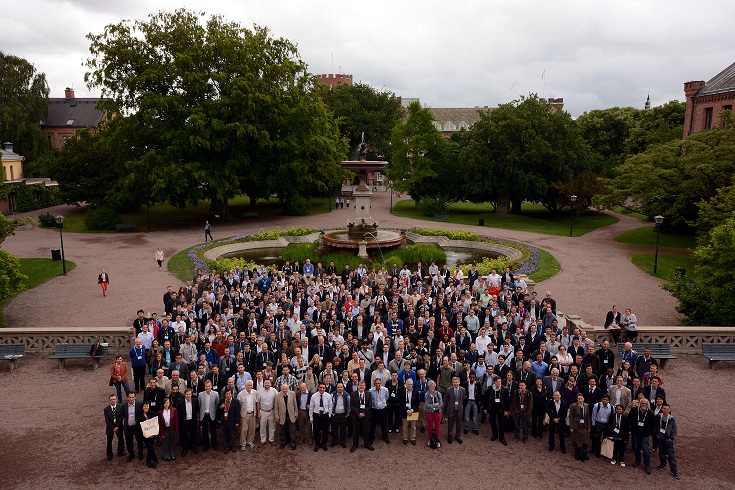 Download conference group photo in full-size (JPG, 3.19 MB).
Photo gallery
Sadly the photo gallery is no longer available
Acknowledgements
The organisers would like to thank heartily the volunteers who helped to prepare and carry out the ECM 2013!
Jenny Nauclér
Vladimir Alekseev
Christian Brackmann
Sven-Inge Möller
Henrik Bladh
Moah Christensen
Elna J. K. Nilsson
Minna Ramkull
Cecilia Bille
Fahed Abou Nada
Zheming Li
Yogeshwar Nath Mishra
Arman Ahamed Subash
Elin Malmqvist
Ron Whiddon
Linda Vallenhag
Bo Zhou
Jiajian Zhu
Zhongshan Li
Message from the Chairman
The Scandinavian-Nordic Section of the Combustion Institute under the auspices of the Federation of the European Sections of the Combustion Institute invites you to contribute and join us at the 6th European Combustion Meeting (ECM2013) which will take place at Lund University, Sweden, from 25th to 28th of June, 2013.
As one of the oldest cities in Sweden dating back to 990, Lund is a city of contrasts where 1 000 years of history blend with modern knowledge and ideas. In Lund, you find the charm of a small picturesque, cobble-stoned city, side-by side with big city attractions such as services, shopping, restaurants and cultural events.
The ECM 2013 follows the tradition of the previous meetings
which were held in:
ECM 2003 – Orleans, France
ECM 2005 – Louvain-la-Neuve, Belgium
ECM 2007 – Chania, Greece
ECM 2009 – Vienna, Austria
ECM 2011 – Cardiff, Great Britain
The European Combustion Meeting covers all aspects of combustion science and technology, including fundamental physical and chemical aspects of traditional and novel fuel sources, modelling, reaction kinetics, industrial systems, gas turbine and engine systems, fires, combustion diagnostics, laminar and turbulent flames, burner systems, environmental impact and their mitigation, oxyfuel combustion, boilers and fluidised bed combustors, etc.
The Scandinavian-Nordic section and the University are very proud to hold this prestigious event. I look forward to meeting you at the ECM 2013 in Lund.
Professor Alexander Konnov